What could be cooler than a cosplay Tokyo Go Kart tour that provides a unique and exciting way to explore the vibrant city of Tokyo? You'll have the opportunity to dress up as your favorite anime or video game character while taking part in an unforgettable experience that is unlike any other sightseeing tour in Japan.
These guided tours take visitors through some of the most iconic locations in Tokyo, including Akihabara Electric Town, Shibuya Crossing, Harajuku Takeshita Street, Odaiba Rainbow Bridge, and more!
Through these experiences, you will get an up-close look at traditional Japanese culture combined with modern cosplay themes – all from inside your own customized little red go-kart!
Examples include Mario-themed trips around Meiji Shrine dressed head-to-toe as Mario himself; Mech Warrior-inspired drives on Imperial Palace grounds decked out like mech robots; Power Ranger races along Yoyogi Park wearing colorful superhero costumes – amongst many others.
Note: Unfortunately Mario and his crew are no longer available due to some well-publicized legal drama with Nintendo. There are plenty of other cool costumes still on the rack though.
Shinjuku And Shibuya Go Karting
Cosplay Go-Kart in Shinjuku is a unique experience with the start point located within easy access. The carts themselves are electric karts that allow participants to dress up in costumes while riding through city attractions such as neon lights and pop culture spots like Shibuya scramble and Tokyo Tower!
Despite not involving actual racing, Cosplay Go Karting is guaranteed fun for everyone involved – no matter what age you may be!
Shinjuku Go Kart Tour Main Points
Discover the bustling metropolis of Shinjuku, Tokyo with a one or two-hour go-kart tour.
Customize your private experience to suit individual needs and wants, including donning a cartoon character costume for your ride!
Be accompanied by an experienced guide who will ensure safe driving on busy Tokyo streets
Pass through Shibuya Crossing and Shinjuku Golden Gai along the way!
Great quality Photos from your journey are available at no extra cost after completion of the ride so you can take home some memories of this unique experience!
A valid foreign driver's license is accepted in a number of countries as long as it has been translated into Japanese
Otherwise, an international driver's license is needed.
More About The Shinjuku Go Kart Experience
Embark on a memorable and exciting experience as you tour Shinjuku in metropolitan Tokyo, Japan with Go-Kart! Offering both shorter (one hour) and longer (two hours) routes for your convenience, this private tour is customizable to suit all of your needs. And that's not even the best part – why not go wild by donning one of the cartoon character costumes for an extra special ride?
Your guide will accompany you throughout the entire journey to ensure safe driving whilst taking in iconic landmarks such as Shibuya Crossing or historic areas such as Shinjuku Golden Gai.
Photographs taken during your ride can also be provided afterward at no additional cost.
Review
A trip to Shinjuku's Go Kart Tour is an absolute must-have experience. Everything about it is set up to give you a clear expectation of what will be coming ahead in this remarkable adventure: loads of fun and feeling safe while doing so!
Despite cold and rainy weather conditions, our guide ensured we had all the necessary warm clothing such as jackets along with glasses and face covers for protection against any winds or low temperatures during night hours.
The 5 pm slot was perfect for witnessing firsthand some amazing night lights without fail. Additionally, the Monkey Karts crew who run this tour were exceptional at providing an excellent briefing on safety guidelines before starting out – making sure everyone felt equally comfortable being behind their carts which were surprisingly quick!
Not only did they provide costumes but also lockers which made it easy not to get lost throughout the tour. We were even able to pose like celebrities due to its popularity amongst locals who couldn't help but snap photos of us.
Akihabara Go Kart
The other tour on offer in Tokyo is also highly recommended and kicks off in the Anae Mecca of Akihabara.
The Go-Karts Akihabara Tour is a great way to experience the electronic district of Akihabara. For those wishing to make their experience even more memorable, it's possible to dress up in costume from a great range.
Costumes range from traditional Japanese kimonos and school uniforms, right through to characters from well-known anime series such as Naruto or Dragon Ball Z.
You can also find an array of shops stocking popular costumes around the area; some stores may offer full packages that include wigs and props too!
There's no better place than Akihabara for dressing up like your favorite character – you'll never forget this unique adventure into one of Japan's most iconic areas!
Key Points
Enjoy an extraordinary sightseeing experience in Tokyo, taking a private go-kart tour of Akihabara and exploring the city's top attractions with a local guide.
Discover the iconic neon lights adorning stores selling manga and electronics from behind the wheel of your rented go-kart for as long as desired
Insurance fee included!
Begin at Building Sasage B1F, 2-4-6 Sotokanda, Chiyoda-ku, Tokyo Japan (5 minutes walk away from Akihabara station),
Enjoy food/drink onsite before enjoying hotel pick up & drop off service to end back where you started
Before hitting the road be sure to listen carefully during safety briefings including
No wearing high heels
Akihabara Go Kart Reviews
We had an absolutely amazing experience go-karting through the iconic streets of Tokyo with the Akihabara Tour.
The well-maintained karts and attentive guide made this a highlight of my trip to Japan! Before we drove off, there was an important road safety briefing which gave us peace of mind as our friendly tour guide maneuvered around some busy intersections skillfully.
We were offered a large selection of costumes including ones that weren't in the best condition – however, they still added extra fun to this brilliant adventure.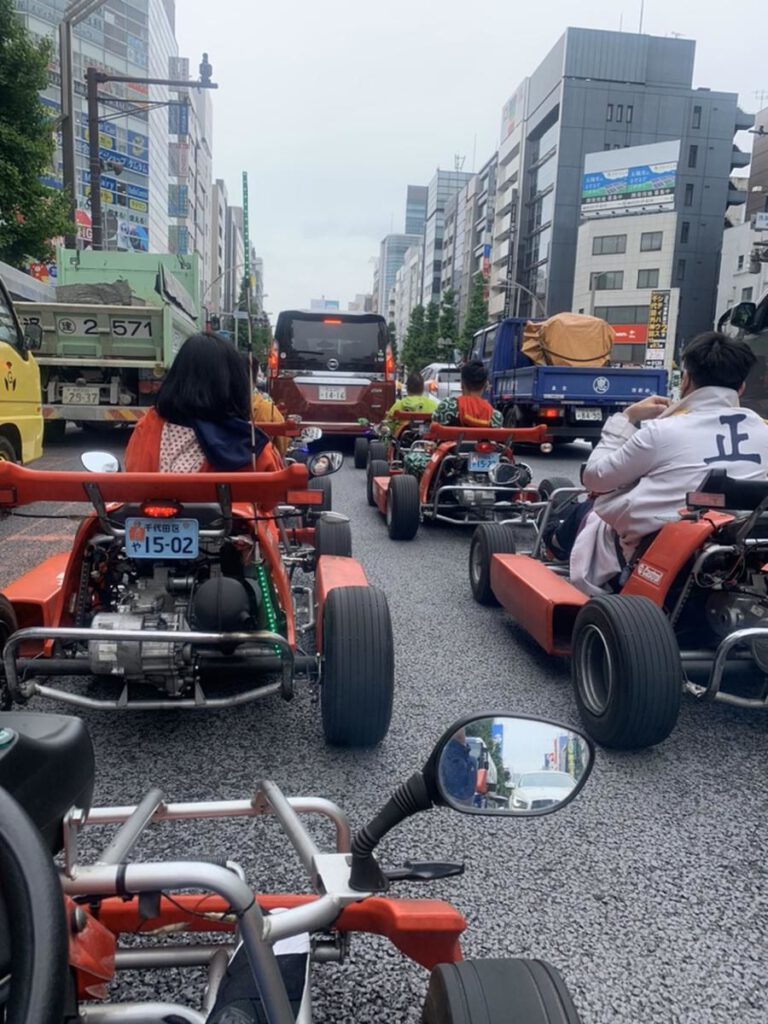 The great thing about it is that Klook offers incredible prices for tickets and their easy-to-use vouchers make it super convenient too! It's also worth noting that some sessions may end early due to heavy rain but you will get refunded really quickly so no harm done!
To add even more excitement, during night tours you can enjoy beautiful views while your guides take heaps of photos and videos.
The Wrap Up
Go Karting in Tokyo provides a unique experience for visitors of all ages. From the moment you take off your helmet and walk away, this activity will have you feeling like a kid again as it immerses its guests into an exciting world.
It allows each person to be expressive through costumes while exploring the streets at high speeds with friends or family. Driving around gives everyone that special adrenaline rush only experienced from behind an open-wheel-kart—not to mention enough picture opportunities for Instagram!
Cosplay go-karting is not just an incredible way to get up close and personal with Japanese culture; it's also fun, memorable, and surprisingly safe – start your engines ladies and gentlemen!